Awaken Youth Worship Trip (By Invitation Only)
Mar 31 2017 - Apr 8 2017
Northeast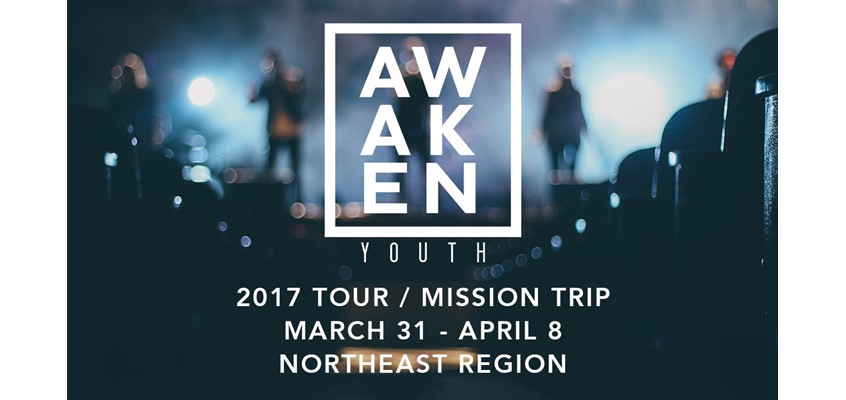 Opportunity Overview
This trip is for high school students who have been invited to participate.  Participation in student mission trips is overseen by each campus student ministry.
Overview
The Next Gen Awaken Youth Worship Team is joining with a Southeast missions partner and several church plants for a week of worship and service in the Northeastern region of the U.S. The group will serve The Samaritan Women, a Baltimore ministry that rescues women from human trafficking, for a day of service, encouragement and worship. They will also provide worship services and work alongside several church plants throughout the Northeast in an effort to show Christ's love. This is a great opportunity for students who have a passion for service and worship to gain first-hand experience while serving partners and churches.
Objectives
Offer high-energy, spirit-filled worship opportunities for partner churches
Serve several Northeast communities through various service opportunities
Bond with fellow students in the group as they share the common goal of spreading the gospel of Jesus Christ
Trip Leader: Jason DIlday | JDilday@secc.org | 502-253-8527
Trip Leader: Sarah Parks | sarahkparks10@gmail.com | 502-544-7480
Missions Contact: Crystal Terry | CTerry@secc.org | 502-253-8006
 
Please send completed forms to:
Southeast Chrisitan Church
ATTN: Crystal Terry
920 Blankenbaker Parkway
Louisville, KY 40243-1845
OR
email: CTerry@secc.org
OR
fax: 253-3994
Stories Tell your story
Cost: $600.00 due 3/24/2017
Application Fee: $50.00
| Milestone | Amount | Due Date |
| --- | --- | --- |
| Non-refundable deposit at time of application | $50.00 | |
| 1/2 Trip Cost | Must be received in order to purchase airline ticket/serve on the trip. | $300.00 | 2/17/2017 |
| Trip Balance | Must be received in order to serve on the trip. | $600.00 | 3/24/2017 |
| Name | Description | Location | Date | Required? |
| --- | --- | --- | --- | --- |
| 1st Team Meeting (Students, parents & team leaders) | This meeting is for team members and parents. Meet your team. Receive an overview of the trip. Receive fundraising information. Begin praying for the trip. This meeting generally occurs within two weeks after the application deadline. | The Block Foundation Room | Jan 29 2017 1:00 PM - 2:30 PM EST | Yes |
| Mandatory Programming Meeting | Programming run through. | Block Foundation Room | Mar 5 2017 1:00 PM - 1:30 PM EST | Yes |
| Mandatory Retreat/Rehearsal | This is mandatory for all trip participants and usually occurs 4 weeks prior to the trip departure date. You will participate in team building activities, review the team handbook, receive travel information, etc. NOTE: Attendance at this retreat is mandatory for participation on this trip. | 1-6 PM Retreat - Block Foundation Room. 6-8 PM Rehearsal Auditorium. Lunch served. | Mar 12 2017 1:00 PM - 8:00 PM EDT | Yes |
| Mandatory Rehearsal | Rehearsal | To be determined. | Mar 23 2017 4:00 PM - 7:30 PM EDT | Yes |
Complete online application and pay $50 non-refundable deposit.

All required forms should be turned in by the deadline - January 29.
Meet all paperwork and trip cost deadlines.

Adhere to the Team Covenant at all times. *see Forms tab

Attend all team meetings, mandatory Team Retreat and rehearsals.

Trip cost does not include your spending money.
This trip is only for those students who have been invited to participate on this trip.
Pray.

Discuss with your family.

Submit all required forms by the application deadline.
Similar Opportunities